Benromach 10 year old single malt review
July 6, 2016
Whiskey decanters – any good or just eye candy?
July 8, 2016
As a whisky enthusiast – when thinking the best gift I can ever get – engraved whiskey glasses come to mind. When not thinking about actual whisky, which is of course, the best gift I can ever get. Engraved whiskey glasses have been a dream of mine for quite a long time. And I'm not necessarily talking about my name or kids names engraved to them.
I've been dreaming of the logo of one of my favorite distilleries – Lagavulin or Ardbeg for example. That's why, when I bumped into them online, I had to buy couple of Ardbeg whisky glasses with engraved logos on them.
Personalized whiskey glasses from Amazon
When you're looking for other ways to personalize your favorite whiskey glasses, there are quite a few services online. Amazon for example, offers engraved whiskey glasses with reasonable pricing. You can even get Glencairn whisky glasses engraved
.
What's great in Amazon, the prices are nice and the selections are good. You can get a whiskey tumbler glass engraved, or even a nosing glass which suits better for enthusiasts.
Home Wet Bar – probably the most versatile whiskey gift shop
When looking for the place with most whiskey gift ideas, Home Wet Bar is my go to place. Their online shop consists of multiple gift ideas for whiskey enthusiasts.
You can get personalized whiskey glasses or even engraved decanters. Along with other cool stuff for your home bar. Check out Home Wet Bar's engraved decanters from the banner below: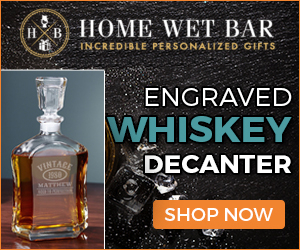 Buy whiskey glasses engraved for your loved ones
Besides actual whiskey, I can't think of anything better to get as a gift to a man or woman, who loves a dram once in a while. Engraved whiskey glasses have been on my wanted list for a long time. Even though I got myself the Ardbeg glasses, I'm still eager to get my own initials or our local whisky society's logo engraved in a Glencairn glass. Or that Lagavulin logo, which is still missing from my whiskey glass, too bad that Lagavulin won't sell them online in their own online shop.
Even a tumbler will do because it's nice to get bigger sips once in a while. Read more about different types of whisky glasses from my previous article or start getting those whiskey glasses engraved from Amazon or HomeWetBar. Personalized, cheap or expensive whiskey glasses – the choice is yours!